How to write an SEO text that positions in Google
Everything you've been told about writing SEO texts is a lie. Pass labels, passes semantic latency and keyword stuffing. Less TAGS, more FLOW.
Writing an SEO text is easy. Good SEO content is the one that best answers a user's question. White and bottled.
Google makes money by being the best search engine there is -after our mother, that how she has to go and look, cobras-, and for it, needs to provide you with the content that best answers your question, that you propose in search form.
Optimizing the technical elements helps a bit, but it is not essential and it is not, now here near, as important as making content that you like.
However, How do you write an SEO article?What do we have to know to write a correct text at the SEO level?
Things that work in SEO texts
Do not worry, we are not going to get into technical things: it's common sense applied, like everything in SEO.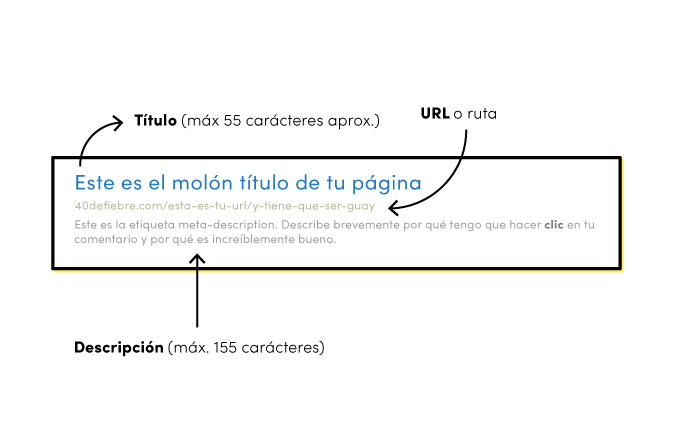 Keywords
It is true that generally an article must be directed to a keyword or topic that is being searched.
That is why it is important that you know that it does not matter if you doubt between «car rental», "Car rental" or "rent a car". The important thing is what is behind, that is to say, if the user's intention corresponds to the purpose of your content, any of the options will be correct.
Do you know what is most wanted? As in principle you have no idea (me neither) what you do is go to tools like Übersuggest to give you search ideas, and Google's Keyword Planner, Keywords Everywhere or SemRush to tell you the volume of each of them.
If you want more information about this, you can see more information in our SEO keywords guide.
When you've identified several that look good, do the searches yourself on Google and see which one has the strongest competition.
At a glance you can identify it by seeing if they are powerful websites or not (better to compete against Paco's blog than against Amazon), and if you doubt, you can use tools like ahrefs to look at the links that each URL has. Si tiene muchos enlaces será más fuerte que si tiene pocos o ninguno.
La URL tiene que estar totalmente optimizada para la palabra clave o temática sobre la que gira el contenido. Elimina las palabras que no aporten valor, como conjunciones, preposiciones y otras stop words.
Mal

: /

los-10-mejores-coches-electricos-enbogota-colombia-de-lomejor-2020/

Bien

: /

mejores-coches-electricos-2020/
Respecto a la extensión, no hay un máximo recomendable, aunque lo ideal es que la profundidad del contenido no pase de los 3 niveles.
Mal

: /

nivel1/nivel2/nivel3/nivel4/contenido

Bien

: /

nivel1/nivel2/contenido
Obviamente cuando hablamos de posts en un blog, lo ideal es que la parte de la URL referida al contenido esté en un primer nivel.