useful findings on how people view websites
Your website visitors are visual creatures and want websites that they find attractive.
Clear, they may have come to your website through a Google search result or an engaging Facebook post, but they won't stick around if the website confuses you or feels unreliable.
And no one wants their users to bounce.
To keep visitors interested, it's important to make sure your website's branding and visual structure help support the amazing content that goes with it.
The upper left corner draws attention first.
When users land on your site, your visual path starts from the top left corner and moves down and to the right from there.
According to an eye tracking study, these areas receive the most attention: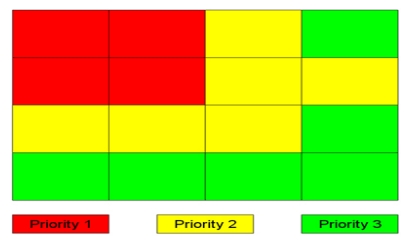 Check your site and see what you have in these zones. Move the value proposition to the upper left area. Yes, There are exceptions, but use this as a starting point and test from there.
Do you know the Gutenberg diagram ? Describes a general pattern through which the eyes move when looking at content (usually heavy text). Fits this zoning conclusion quite well, with the exception of the lower right area.
People read in patterns F.
Most people don't read but scan . A study of 2008 concluded that, on average, only read the 28% of the text.
Eye-tracking visualizations confirm that users often read website content in an F-shaped pattern : two horizontal stripes followed by a vertical strip. Another study confirmed this. (A similar study called this the golden triangle. ).
That is why you want your value proposition to be at the top of the page., and why your menu should be top horizontal or left vertical.
Visibly larger introductory paragraphs improve attention.
Make introductory paragraphs bold or larger font size. When test subjects found a story with a bold introductory paragraph, the 95% of them saw all or part of it.
A good article starts with a highlighted summary section and a bold first line.
Keep paragraph lines short and in a single column, this is how people are used to reading text.
The font you use doesn't really matter . Ah, and people like links: the number of clicks on the links increases as you add more links.
People won't look past the first search results.
If it's not in the top two or three results on Google, is losing. An eye tracking study by Google (even before mobile took over desktop search traffic) found that most users got what they wanted from the first two results.
Users never needed to go further down the page, which is exactly what google wants. A perfect search engine offers users exactly what they need with the first result, forever.
If that's what Google is optimizing, you should too.
people move, but they place the most important content on top of the fold.
Users know how to scroll below the fold, but they don't spend as much time there as they do above the fold. Make sure the area in the top half of the page contains your value proposition, but don't try to squeeze everything out there.
Scrolling still provides better usability than splitting lengthy content across multiple pages. Nevertheless, yes you must guide people to move down .
curiously, several studies indicate that the bottom of a page also receives a lot of attention. That is a good place for a call to action..
The left side of the page gets more attention than the right.
With some exceptions, people read from left to right. This is also the reason why the left side of your website receives more attention..
Web users pass the 80% of your time looking at the left half of the page and the 20% seeing the right half. Thus, a conventional design is more likely to make sites profitable.
Sites like eBay have by default a menu on the left for shoppers browsing.
If you have a vertical menu, place it on the left. Nevertheless, navigation placed at the top of a home page works best (that is to say, is viewed by the highest percentage of test subjects and observed for the longest duration).
Large, high-quality images are more attractive
Using large, sharp images is recommended (based on eye tracking studies ). Image quality is an important factor in attracting attention. People have g facing forward in photos they are more attractive and approachable.
Small, blurry images are less attractive than big glamorous photos. The eye-tracking study also revealed a counterintuitive finding: people who look like models are less likely to attract attention than people "normal". (This is one more reason to avoid stock photos. ).
Dominant headlines draw the eye.
An eye-tracking study found that big headlines tend to grab attention when entering the page, especially when they are in the top left corner (it is not surprising).
Present a complete value proposition within the headline. Keep in mind that clarity trumps persuasion.
If you have multiple headers on a page, components on the left draw attention. As usual, people scan a list of headlines; they don't see the whole of them all. If the first words involve them, they are likely to continue reading.
On average, a headline has less than a second of site visitor attention. This means that the first two words must be really eye-catching..
If you need to display smartphone images, stick with apple products.
Consumers looking at smartphone groups were found to spend more time looking at Apple products than Motorola Android devices, Samsung and other manufacturers.
The iPhone received the most attention (2.3 seconds, on average) in your group. between the tablets, the iPad tied with the Amazon Kindle Fire for the lead, a 2.4 seconds each.
First impressions are formed in less than a second.
When viewing a website, users take less than two tenths of a second to form a first impression.
The researchers found that their subjects spent approximately 2.6 seconds scanning a website before focusing on a particular section. They spent an average of 180 milliseconds focusing, or "fixing", in a particular section before continuing.
Here are the sections of the website that attracted the most interest from viewers:
The logo. Users spent around 6.48 seconds focused on this area before continuing.
The main navigation menu . Almost as popular as the logo, Subjects spent an average of 6.44 seconds viewing the menu.
the search box . Focused users for just over 6 seconds.
social media links. Users spent approx. 5.95 seconds viewing these areas.
The main image of the site. Users' eyes were fixed for an average of 5.94 seconds.
If you were a victim of a computer attack on your website, contact us and we'll help you recover if website.
An SSL certificate is a standard security technology for encrypting information between a visitor's browser and their website.
Read more "